Are you still working from home? Lucky you! Today's post is a special little shout out to 5 of my ride or die holy grail beauty products that have helped me achieve the effortless minimalist beauty look while working from home. I don't know how the rest of you have fared throughout this last year, but makeup hasn't necessarily been at the forefront of my mind for a good chunk of 2020. The new year calls for less make up and more minimalist beauty which is great when you're working from home or on-the-go!
More Beauty Less Makeup
However, this year I've been slowly but surely coming out of my mundane lack-luster and lack there of any real effort to put my face on mood. I have somehow managed to stick to the same five products throughout the work week and guess what? It only takes me 5 minutes to put my face on! Seriously.I definitely have been guilty of rolling out of bed late, only to run to my desk and try to look like a well slept human being before logging onto a video conference call.
Applying makeup hasn't ever felt like a chore, in fact most of us really do enjoy it. However, what I have learned from this experience working from home in relation to how I apply my makeup, is that it's nice to know a little makeup can go a long way. I also learned that at my core I have genuinely always lusted after minimalist beauty.
Minimal + Multipurpose
From the moment I purchased my first lipstick as a teenager, I recall how it was almost second nature to me to use it as a multipurpose product. A flush on the cheeks, a soft pout, a nudey pink lip and maybe even a touch of pink on the bridge of the nose, I knew what I was trying to achieve. That youthful, effortless look. These days, however, I can't really get away with no concealer; racoon eyes are just not so cute.
I truly do appreciate the beauty products in my arsenal that allow me to put myself together quick! Let me know what your staple makeup products are and if you are into minimalist beauty!
Believe it or not I've had the same little pot of concealer for a whole year and it's still going strong. As far as concealers go it will continue to be a favorite of mine and definitely one of the most long lasting products I own. This concealer is full coverage but can look super natural if you're not heavy handed. It does a fantastic job of blurring out imperfections too. My minimalist beauty tip for concealer is only apply it where you absolutely need it, go light and use the warmth of your fingers to distribute it onto other areas that you might need like a blemish or dark spot.

I have always been a big fan of Josie Maran Argan products and even used their Lip Cheek Creamy Oil Rose for years until I switched to the color stick. I absolutely love the glowy finish in all of Josie Maran products. It's so effortless apply this color stick to my cheeks and sometimes my lip. It's super comfortable too and not at all what you would expect. My minimalist beauty tip for applying a cheek stain is don't rub, but tap the color onto your cheek for a softer finish.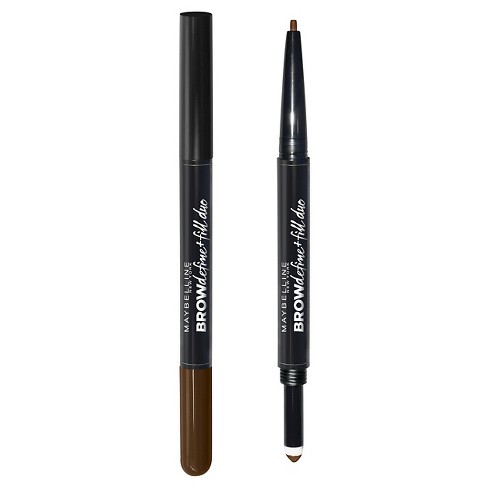 This is just an all around great brow product and another one that has just lasted me months. I really can't even remember the last time I repurchased it, it's felt like forever ago. For a natural, but quick brow, the brow duo gets the job done in no time. Sometimes I just define my brows and sometimes I define and fill them in. A lot of the times I'll just fill them in and that'll suffice! Favorite drugstore brow pencil hands down. My minimalist beauty tip for brows, always start where you have sparse hairs and even them out before you fill them in.
I have yet to find highlight product that can deliver glowy skin in all the right places quite like Becca's Shimmering Skin Perfector. Maybe it's that cross between skin care and makeup that does it for me, but there is nothing quite like the luminous glow I get from applying this product to my face. It's probably the one product I would recommend the most for that minimalist beauty look. Minimalist tip for applying a highlighter: tops of cheeks, cupids bow, brow arch and bridge of the nose.
Last, but not least where would I be without a favorite lip product. NYX is the only brand of lip pencils that I keep going back to time and time again. Maybe it's the 90s child in me, but I swear a lip liner applied underneath over a soft balmy lip is all I need to tie up this minimalist beauty look. Minimalist tip: the idea is to have your lips look almost natural, just enhanced.
---
For more posts like this check out 7 Clean Beauty + Body Products You Should Try